TITA - BEST PARIS STORIES - SORBONNE CONFIDENTIAL - WWII VOICES: AMERICAN GIS AND THE FRENCH WOMEN WHO LOVE THEM
* 99 CENTS EACH FROM AMAZON KINDLE: Dec 25-28 *
"

Kindle ebook French Collection Promo"
by Marie Houzelle,  English, 312 pages, ISBN-13:978-1940333014  paperback: $14.99
Tita is seven, and she wonders what wrong with her. As her small town vibrates to age-old Latin rituals on the verge of slipping away, Tita finds refuge - and a liberation- in books.
"Like opening the door to a secret garden, TITA transports the reader straight into life in a small town in the south of France during the 1950s, as seen through the eyes of a precocious seven-year-old heroine not soon to be forgotten. Houzelle's prose is unfailingly deft and refreshing. This book is a delight!" - Anne Korkeakivi, author of An Unexpected Guest 
"Marie Houzelle is a master of the first-person narrative. In Tita she has created a strange, utterly original child whose deadpan certainties are a beguiling invitation to readers of all ages."- Katharine Weber, author of Triangle and True Confections
"The best book I read this year. A rare novel written in English that gives a real taste of French culture. I cannot recommend it enough!" - Janet Skeslien Charles, author of Moonlight in Odessa
"a charmed magic casement on a French childhood."- Sheila Kohler, author of Dreaming for Freud
"1950s provincial France from the viewpoint of a singular child. A triumph of a first novel".– Yuriko Tamaki, columnist, the Yomiuri Shimbun. 
"rich and warm...a book worth savoring."– Judith Starkston – New York Journal of Books
"her brilliance, potential, and unusual way of looking at the world will have won readers over".  – Publishers Weekly
 CATEGORIES: France – literary fiction – coming of age – travel – YA – Catholic - 1950s
by Jeannine Alter, Jim Archibald,  Lisa Burkitt, Mary Byrne, Jane M. Handel, Marie Houzelle, Bob Levy, Julia Mary Lichtblau, Jo Nguyen, Nafkote Tamirat 
ISBN: 9780982369852  Suggested  Retail Price : $9.99
For some, Paris is home, for others, merely a dream. For Gaston, it is a bench, the anchor of his life. For Sue, a romantic city filled with scandalous, dark-eyed men, for Frank an all-consuming fire, for Mme Santinelli a ghost she'd hoped to forget.
By turns humorous, bittersweet, historical or surreal, each of these carefully selected stories invites us to explore a different facet of Paris.
SELECTED BY DISTINGUISHED JUDGES 
I chose "The Way You Looked at Me" for its graceful writing and general subject - our differing points of view - and for its powers of observation, and astute cross-cultural detail.  (JUDGE DIANE JOHNSON, author of Le Divorce)
"Hortense on Tuesday Nights" had a sparse, mysterious quality which engaged me. The point of view was culturally ambiguous - and distinctly Un-American - which I found refreshing. (JUDGE ELIZABETH BARD, author of Lunch in Paris: a Love Story with Recipes) 
I liked the story for its realism, its knowing voice, its discreet sense of humor, its successful reliance on dialogue, and its confidence in its own originality.  (JUDGE CHARLES TRUEHEART, on "Our Pharmacy" by Nafkote Tamirat)
For more on the Authors, Editorial Committee and Judges, click here.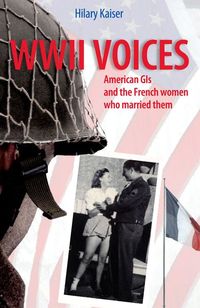 by  Hilary Kaiser  ISBN 978-0-9823698-3-8
These oral histories give voice to both American veterans who chose to reside in France after World War II and to French women who married GIs and subsequently emigrated to the United States. They bring to life the realities of World War II in France, North Africa, England, Belgium, Holland, Italy and Germany.
 "We owe our World War II veterans a huge debt – a debt of honor …Hilary Kaiser had the wisdom to record their individual memories. Because of her, these veterans' stories will survive… Their courage and perseverance in the face of war will be an inspiration for us and our children…"   -James S. Dickey, Brigadier General, U.S. Army (Retired)
 Hilary Kaiser, Ph.D, is American by birth and French by marriage. The daughter of a GI who fought in Japan during World War II, she is an oral historian and an Associate Professor Emerita of the University of Paris.
 WWII Voices is available in ebook for Kindle, 

by Laurel Zuckerman  ISBN: 978-0615252896
How hard can it be for an American to teach her mother tongue in France?
 "Her tragi-comic story explains how France produces the worst English teachers in the world" - LE POINT 
"Wickedly funny" - GOOD TEACHER MAGZINE 

 Laurel Zuckerman is the author of Sorbonne Confidential and Les Rêves Barbares du Professeur Collie. An HEC graduate and long-time resident of France,her essays and interviews have appeared in Hommes et Commerces, Cahiers Pédagogiques, The Paris Times, Le Point, Le Monde, Le Monde de l'Education, The Guardian, The Times, as well as on France 24, TF1, RFI, and the BBC. A former e-procurement systems specialist, Laurel edits Paris Writers News.


 "Laurel Zuckerman has split the academic world with a book that relates her experience at the heart of the archaic French teacher-training system."




THE GUARDIAN – "[Zuckerman's] account of her experience in France's teacher training system has… sparked a furious debate over the country's uneasy approach to English."



LE MONDE DE l'EDUCATION - "The candidate imagines that being a native English speaker constitutes an advantage. She learns rather that it is a handicap. Her tribulations are the pretext for exploring with humour... why French students rank last in Europe for English." 


LE NOUVEL OBSERVATEUR – "savoury and highly instructive"


 

 LE POINT – "Her tragi-comic story explains how France produces the worst English teachers in the world"


 

L'EXPRESS - "Absurd, ill-adapted, discriminatory. And dramatically funny…The French university system seen through the half naïve, half incredulous eyes of an American. The reader laughs a lot and concludes that reform is urgent."



THE FRENCH COLLECTION: Summertime Publications Inc
Contact: handell@summertimepublications.com
7502 E Berridge Lane, Scottsdale, Arizona, 85250 USA  Tel: (480) 409-1554
http://www.summertimepublications.com/
___