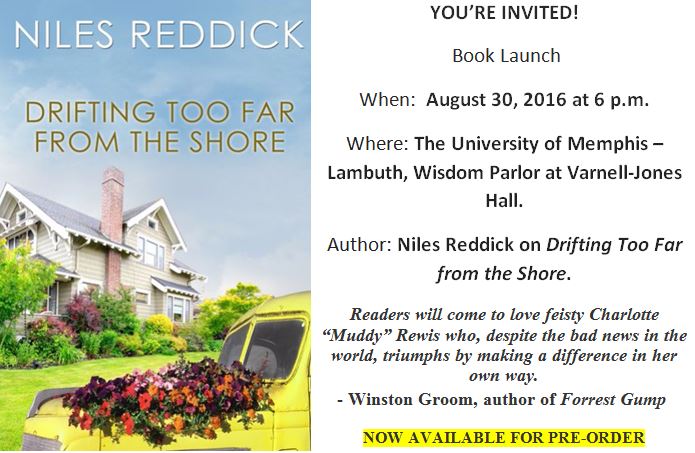 Niles Reddick will kick off his four-state book tour in the south in a celebratory event at the University of Memphis, Lambuth on August 30!
Drifting Too Far from the Shore has received considerable advance praise, in particular for the convincing portrayal of Muddy, a woman in her seventies who is wrestling with the tragedies of life with grit and humor and a heart still open to love. The book will be released on September 15, 2016.
Asked about his acclaimed heroine, Reddick said: "Muddy represents people who are aging, people who have lost loved ones, people who are Southern, people who care about about others, and people who care about the past."
The book launch will take place on Aug. 30 at 6 p.m. in Wisdom Parlor at Varnell-Jones Hall at the University of Memphis – Lambuth. Reddick will discuss the writing of Drifting Too Far from the Shore and its acclaimed heroine, "Muddy". The event is free and open to the public, and refreshments will be available.

Strongly rooted in the south, Drifting is a novel which Reddick hopes will appeal to readers in the south as well as to others drawn to its storytelling and humor.

A professor of English and Vice Provost at the University of Memphis, Lambuth, Reddick is delighted that the inaugural event will be held there."It's nice to have such good friends and supporters from my workplace, and an added bonus is to have such a thriving and supportive arts community here in Jackson that is interested in my writing but also interested in writing in general".

A Readers Guide has been prepared for Drifting Too Far from the Shore for book groups and book clubs that would like to organize discussions.

The University of Memphis event on August 30 is the first in a series of book events that will take Reddick to bookstores and cultural groups in Tennessee, Georgia and Florida, and Reddick looks forward to more events, as his schedule permits.

Niles can be contacted through his website.

or through Summertime Publications: Lea Handell  handell@summertimepublications.com 
 _______________
Drifting Too Far From The Shore by Niles Reddick
Publisher: Summertime Publications Inc
ISBN:  978-1-940333-09-0
Retail Price: $14.99
Distribution: Ingram Book Group, Baker & Taylor, Gardners, 
 * now available for pre-order from AMAZON - BARNES & NOBLE - INDIEBOUND *
 Foreign rights are handled by IPR License.