* now available for pre-order from AMAZON - BARNES & NOBLE - INDIEBOUND *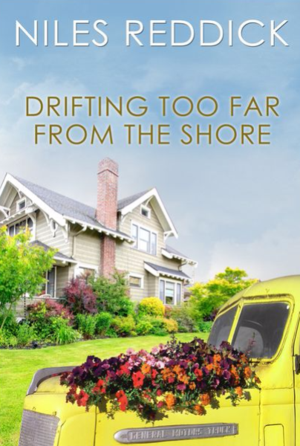 Drifting Too Far From The Shore by Niles Reddick
"Chock full of humor, Drifting Too Far From the Shore is a beautiful story that makes you feel like you have been transported back to small town America."
- Winston Groom, author of Forrest Gump

Readers will fall in love with Muddy "Charlotte" Rewis, a sassy yet reserved southern woman who has a cane and ain't afraid to use it. Muddy believes she is in her last days and longs to reunite in heaven with her deceased husband, Claude, But when Muddy's grandson shoots out a neighbor's front window, an old friendship is renewed, and troubling mysteries irresistibly revived.

Full of humorous moments, Drifting Too Far from the Shore is a wonderful story of small town American South and of making the most of life.
Available: Fall 2016
Publisher: Summertime Publications Inc
ISBN:  978-1-940333-09-0
Retail Price: $14.99
Distribution: Ingram Book Group, Baker & Taylor, Gardners
Group Orders for Book Clubs, please contact Lea Handell at handell@summertimepublications.com. 
About the author: Niles Reddick's collection Road Kill Art and Other Oddities was a finalist for an Eppie award; his novel Lead Me Home was a national finalist for a ForeWord Award and a finalist in the Georgia Author of the Year award in the fiction category. His work has appeared in anthologies: Southern Voices in Every Direction (Iris Press), Unusual Circumstances (Pocol Press), Getting Old (KY Story), and Happy Holidays (Kind of Hurricane Press). Author of over 50 short stories, Niles' work has appeared in multiple literary magazines and journals including The Arkansas Review: a Journal of Delta Studies, Southern Reader, The Dead Mule School of Southern Literature, The Pomanok Review, Corner Club Press, Slice of Life, Deep South Magazine, Spelk, Faircloth Review, New Southerner, Sonder Literary Magazine, The Harpoon Review, and many others. He works for the University of Memphis, Lambuth, in Jackson, Tennessee. His website is www.nilesreddick.com
Book Tour: Niles Reddick to speak at events in Tennessee, Alabama, Georgia, Mississippi, Kentucky, Virginia, North Carolina, South Carolina, Florida, and Wisconsin, with new dates and locations being added. For events and interviews, please contact Lea Handell at handell@summertimepublications.com.
CATEGORIES: literary fiction – southern writers – women – older lives – faith – humor  
* now available for pre-order from AMAZON - BARNES & NOBLE - INDIEBOUND *