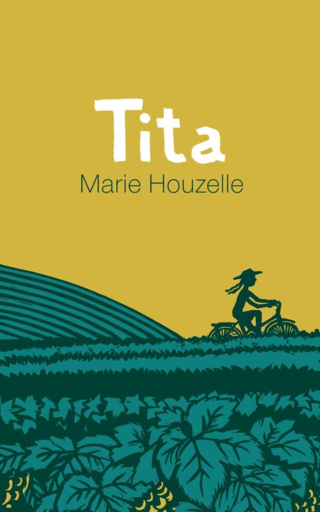 TITA by Marie Houzelle
ISBN 978-1-940333-01-4 (312 pages, $24.99, pubdate: Sep 15, 2014; LCCN : 2013944782 ) 
ARC now available for books reviewers adult and YA, teachers, school librarians, public libraries and press
contact handell@summertimepublications.com
Growing up in the late 1950s in southern France, Tita is an intensely devout, bookish seven-year-old girl whose precocity and originality threaten to make her an outcast from the only world she knows. As her small wine producing town vibrates to age-old rituals and values already on the verge of slipping away, Tita finds refuge in books, which fire her imagination and offer her an opening towards a more expansive, freer future. 

ADVANCE PRAISE FOR TITA
"Like opening the door to a secret garden, TITA transports the reader straight into life in a small town in the south of France during the 1950s, as seen through the eyes of a precocious seven-year-old heroine not soon to be forgotten. Houzelle's prose is unfailingly deft and refreshing. This book is a delight!" - Anne Korkeakivi, author of An Unexpected Guest

"Marie Houzelle is a master of the first-person narrative. In Tita she has created a strange, utterly original child whose deadpan certainties are a beguiling invitation to readers of all ages. Like Louise Fitzhugh's classic Harriet the Spy, the story is powered by a precocious and independent loner whose observations and reports are both charming and moving. Tita is a remarkable debut." Katharine Weber, author of Triangle and True Confections
"The best book I read this year. Witty, wry, and clever, Tita's young voice captivated me from the first page. Tita poignantly portrays small-town life as well as the end of the Catholic church's grip on France, revealing cracks in society that a decade later become the riots of 1968. A rare novel written in English that gives a real taste of French culture. I cannot recommend it enough!" Janet Skeslien Charles, author of Moonlight in Odessa

A brilliant portrait of a world of rituals and values which have disappeared, the heroine's powers of observation and humor recall Scout in To Kill a Mockingbird.
,
This Advanced Reading Copy is for Book Reviewers interested in literary fiction, coming-of-age novels, France, French culture and civilization, Catholicism, the education of gifted children, and stories of the 1950s. We also think it might be appropriate for young adult and advanced child readers as well as for students and teachers of French culture and civilization.
About the Author:

 Born in the south of France, Marie Houzelle writes in English. Her stories have appeared in Narrative Magazine, Pharos, Orbis, Serre-Feuilles, Van Gogh's Ear, Best Paris Stories and in the chapbook No Sex Last Noon.
Tita: cover design by Joëlle Jolivet