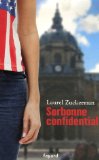 Last month, France's TF1 TV networkscreened a short report on the state of English teaching in France which is worth watching.
"Pourquoi est-on aussi nuls en anglais?" the TF1 report on English learning in France, asks the perenial question: Why are the French so terrible in English? Some answers can be glimpsed in the interviews... The French primary school teacher who says she doesn't know how to speak English but does her best.  The young man who says he had a job waiting for him if he can finally pass the English test...The high school (lycée) teacher who demonstrates methods to encourage the class to participate - which looks great until the journalist informs us that the French education ministry would allow reporters to film only this class and no other.
***
Five years after the publication of Sorbonne Confidential, what has changed? According to the news report broadcast on France's leading television station TF1, not much. As of this year, children will be tested in their oral English skills, but teachers in the primary schools are still thrown into classrooms without adequate knowledge of English and the competitve exams have not fundamentally changed.
And, just in case we needed a reminder of the French problem with English, President François Hollande volunteered to offer an example. He signed his letter to Barack Obama not "Sincerely Yours" or "Best Wishes" but an innovative "Friendly, Hollande". 
Here is the TF1 video entitled "Pourquoi est-on aussi nuls en anglais" (Why are we so awful in English)

Laurel Zuckerman's inside look at English teaching in France (Sorbonne Confidential) first appeared in French to rave reviews and heated debate in 2007. The book, based on Zuckerman's personal experience and extensive research, describes in disconcertingly hilarious detail how English teachers in France train for an arduous competitive exam that tests their ability to write Cartesian dissertations (in French) and to distinguish between pig's feet (what the animals walk on) and pig's trotters (what you eat). It examines France's teacher training system and the impact that poor training of English teachers has on the learning of English in France. It also looks at the private industry that has sprung up around teaching English as a Second Language, as worried parents look for solutions outside the public schools.