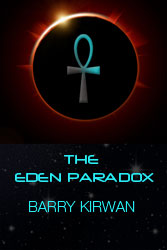 *****    Praise for Barry Kirwan's The Eden Paradox      *****
"This is a spectacularly well-written novel, massively gripping and with a depth of sophistication to the potential future world described that makes it all the more compelling. You don't need to be a SciFi fan to enjoy this book, but if you are you're going to love it! I found myself making excuses during the day to sneak in a few more pages' reading – it's been a long time since a novel made me do that!"
Guy Loft, Ashgate Publishers
"From the first paragraph, Barry Kirwan takes the reader on a journey spanning space and time in a fluid, action-packed flow of images, thoughts and words. His cast of characters ring true, pulling the reader into all too real future, where Mr Kirwan gives mankind hope while preying on our fears. An excellent story leaving the reader craving more."
Lydia Manx, Piker Press
"Barry is a great story teller. He has woven a vast array of ideas and themes into a coherent, credible tale, stitched together with no apparent seams while remaining very readable and accessible, and it has a strong ending."
Author Julie-Ann Corrigan.
"I was surprised by how exciting this book is. It's a real page-turner from start to finish. I loved how the plot starts small and then scales up to the global, and then interstellar level. The beginning is tight and unexpected, and the ending is truly spectacular!"
Author and Screenwriter Gideon Roberton
"Kirwan carves out a tale of diabolic intent and our desperate struggle against both ourselves and an implacable enemy. His characters are instantly involving, and his ability to merge poetic prose with technical knowledge and amazing descriptions kept me clicking the forward button on my Kindle in every moment I had. Truly, if yo don't read this book you are missing out!"
Scifi Author Mike Formechelli
"The Eden Paradox is a well-written science fiction thriller, with the plot grabbing the reader from page to page so fast that my Kindle had to work to catch up!"
Author Chris Vanier
"This is Orson Scott Card material at half the cost and double the words. Hard to beat that. The action was well-paced and the plot moves fluidly from beginning to end."
Jacob Millican, USA 
"The Eden Paradox is a well-written, action-packed, suspenseful novel. I felt as if I was watching a movie.
Mayra Calvani, professional book reviewer
"Like Solaris and 2001, The Eden Paradox deals with cosmic issues, without stinting on action and plot. As I followed the fully-fleshed characters in the near-future setting, I wondered where our own universe and the author Kirwan's begins."
Author Dimitri Keramitas.
The Eden Paradox is the first novel in the stunning science fiction space opera, The Eden Series.