Spotlight on Best Paris Stories
Janet Skeslien Charles, the acclaimed author of Moonlight in Odessa, winner of the Melissa Nathan award for Comedy Romance, is a featuring a series of interviews called Spotlight on Best Paris Stories. Her first subject is Jane M Handel whose short story "The Way You Looked At Me was selected for inclusion in Best Paris Stories. This humorous  story, Jane's publishing debut, has also just been released as an Amazon Kindle Single.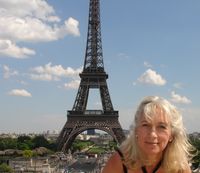 Raised in England, Jane is a longtime resident of Paris. Trained in law, she currently teachers yoga and is working on her novel.  Paris is for her a source of inspiration for her comic talents and astute cross cultural observations.
read interview with Jane on Janet Skeslien Charles' blog