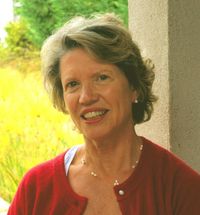 Hilary Kaiser, professor, historian and author, responds to questions by Claudine Le Moal, about her inspiration and technique for documenting the oral histories of American World War II veterans who married French women. Hilary Kaiser will give a talk in Paris on June 6 about GIs on  D-Day in "Lest We Forget" (Please see Paris Through Expatriate Eyes for more information)
Claudine Le Moal Interviews Hilary Kaiser, author of WWII Voices: American GI's and the French Women Who Married Them,
 (available on Kindle and Paperback)
 Claudine Le Moal: I'm fascinated by the stories that you wrote. I'm also curious how you became involved in these two projects of veterans and French war brides. Where did your interests come from and what motivated you to follow through with these projects?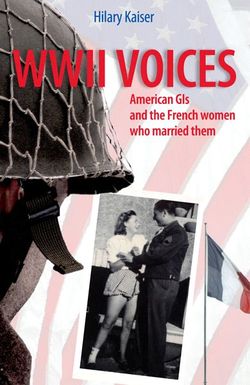 Hilary Kaiser : Well, as I think I stated in the Prologue to the book, my father had fought in Japan and he never really spoke to us a lot about his war experiences, so when the opportunity presented itself with the veterans…well…And also because I interviewed Phyllis Michaux, a woman who lives in Paris who's the WAC in the book, and she said, "You know there are some really interesting stories of veterans who live in Paris, and you should try to interview them before they pass away." And so that's what I did. Of the 20 or so veterans I interviewed, more than half have since passed away. As for the war brides project…the fact that my father met my mother during wartime, that they married two weeks later and that he went back to the war in the Pacific. That intrigued me. And something else was always on my mind. When we moved to Paris in 1962, the concierge in my building had an illegitimate child from a GI.
CLM: How did you go about contacting or finding the people you interviewed?
HK: Well, in two ways. For the veterans, it was through Phyllis Michaux, who gave me some names. And the American community in Paris is rather small, so people gave me names of other people. And sometimes it was just a coincidence. For example, I interviewed Sim Copans, the news broadcaster in the book, and he put me in touch with a French composer who had been living in Brittany in La Haye du Puits, and he put me in touch with an American composer who was a veteran. It was mostly boule de neige as we say in French. Or "word of mouth." For the war brides, it was also through personal contacts and I also advertized through the newsletters of various French consulates in the United States.
CLM: I would imagine you found many more women survivors in terms of war brides than veterans.
HK: Yes, people are now in their 80's and passing away. And actually I did the veteran interviews in 1993, so that's awhile ago. And they were already in their late 60's or 70's then.
CLM: What impressed me was the diverse groups of people, the diverse walks of life, and socio-economic situations.
HK: Yes, that was very lucky. Because the veterans weren't all officers by any means. There were a lot of enlisted men, too. What was interesting was that some of them are quite well-known people in the American community of Paris. There was Ridgway Knight, who was an officer and became an ambassador, and then there was another GI who was a cook. He's still around, and he's now commander of one of the American veterans associations in Paris....  (For more, please go to WWII Voices interview with Hilary Kaiser)