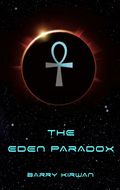 Saturday March 3rd at Waterstones at 11am : 
The science-fiction writer Barry Kirwan signs copies of the first novel in his Eden Trilogy, The Eden Paradox. at:
6-8 Grace Reynolds Walk
Camberley, Surrey, GU15 3SN
Phone:             01276 65227      
A murder... a new planet mankind desperately needs... a thousand-year old conspiracy... What really awaits us on Eden? In a world beset by political turmoil, environmental collapse, and a predatory new religion, a recently discovered planet, Eden, is our last hope. But two missions have failed to return. Blake Alexander and his crew lead the final attempt to bring back good news. Meanwhile back on Earth, Micah Sanderson evades assassins, and tries to work out who he can trust as he struggles in a race against time to unravel the Eden Paradox.
"The reader is pulled into an all too real future, with memorable men and women leading the way. An excellent story, leaves the reader craving more." Lydia Manx, Piker Press
"The Eden Paradox is a fantastic SciFi story, it has great depth, great characters and is very clever in the way the writer captivates your own imagination making you feel part of the book"  JAN Amazon reviewer
"From start to finish I was hooked! A real page turner...." Vinden Grace Amazon reviewer
 A good story, well told. - SF agent John Jarrold.
This is Orson Scott Card quality material at half the price and double the words. Hard to beat that. (Amazon reviewer).
 "Fast paced and beautifully descriptive; with technical details well judged for the less scientific of readers to cope with (!). I thoroughly enjoyed this and am looking forward to Eden's Trial." (Amazon reviewer)
"It's hard to find any science fiction that's science fiction anymore. It's mostly fantasy or romance dressed in future-time togs written to be understandable by the mentally under-developed, rather than appeal to actual science fiction readers. But here's one–not fantasy; not romance–that gets excellent reviews. Plus, it's one of a coming trilogy. Enjoy! "–D. L. Keur, The Deepening
 The Eden Paradox is the first novel in The Eden Trilogy. Book two, Eden's Trial, is avaible now on Kindle.