"A science fiction thriller with terrific images and revelations" - SF author Gary Gibson
FREE KINDLE EBOOK UNTIL MAY 2, 2012 midnight on Amazon USA and UK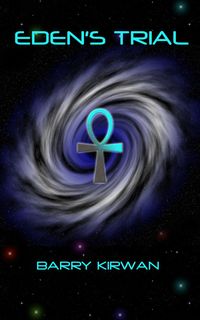 Eden's Trial: book two in The Eden Saga
First contact didn't go well. Survivors are fleeing Earth, into a hostile galaxy where alien intelligence and weaponry rule. Can a deserted planet offer refuge? Or will the genetically engineered Alicians finish the job started on Eden. While Blake fends off attacks, Micah seeks allies, but his plan backfires, and humanity finds itself on trial for its very right to exist.

This stunning sequel to The Eden Paradox launches us into alien political intrigue and intergalactic war of survival. 

Lydia Manx, Piker Press: It's hard to put down Mr. Kirwan's book, but at the same time you don't want to race ahead but savor the complexities of personalities and the well crafted story line. There are new worlds and new enemies entwined with the main characters nearly as closely as their lovers. I can't wait for the next journey...
See five star reviews on Amazon...
Eden's Trial by Barry Kirwan (UK, France, US , Germany on Amazon Kindle)
The Eden Trilogy
Eden's Revenge (coming in 2012)