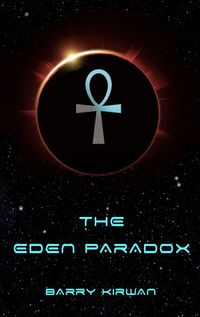 The Eden Paradox by Barry Kirwan
ISBN: 978-0982369845
A murder… a new planet mankind desperately needs… a thousand-year old conspiracy… What really awaits us on Eden?
In a world beset by political turmoil, environmental collapse, and a predatory new religion, a recently discovered planet, Eden, is our last hope. But two missions have already failed to return. Blake and his crew lead the final attempt to bring back good news. Meanwhile back on Earth, Eden Mission analyst Micah Sanderson dodges assassins, and tries to work out who he can trust, as he struggles in a race against time to unravel the Eden Paradox.  
First novel in The Eden Trilogy
Praise for The Eden Paradox
"The reader is pulled into an all too real future, with memorable men and women leading the way. An excellent story, leaves the reader craving more". Lydia Manx, Piker Press
 "Characters whose inner lives inform their decisions". - SF author Gary Gibson.
 "A good story, well told." - SF agent John Jarrold
 "Move over Michael Crichton! Couldn't put it down!" - Joan Devine, Head of Safety Culture, FAA
Paperback now available to order from all major booksellers
Amazon.com  -  Amazon.co.uk  -  Amazon.fr -  Barnes & Noble  -  Waterstones -   Blackwell's  
ask your local bookseller (distribution  by Gardners, Ingram, Bertrams and other major distributors)
Pages : 432
(book two in The Eden Saga)
First contact didn't go well. Survivors are fleeing Earth, into a hostile galaxy where alien intelligence and weaponry rule. Can a deserted planet offer refuge? Or will the genetically engineered Alicians finish the job started on Eden. While Blake fends off attacks, Micah seeks allies, but his plan backfires, and humanity finds itself on trial for its very right to exist.

This stunning sequel to The Eden Paradox launches us into alien political intrigue and intergalactic war of survival. 
Praise for Eden's Trial: 

 It's hard to put down Mr. Kirwan's book, but at the same time you don't want to race ahead but savor the complexities of personalities and the well crafted story line. There are new worlds and new enemies entwined with the main characters nearly as closely as their lovers. I can't wait for the next journey...--Lydia Manx, Piker Press:
Eden's Trial is available as a Kindle ebook in the UK, France, US , Germany and more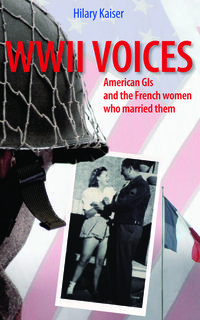 WWII Voices: American GI's and the French Women Who Married Them by  Hilary Kaiser  USA June 2011
ISBN 978-0-9823698-3-8
These oral histories give voice to both American veterans who chose to reside in France after World War II and to French women who married GIs and subsequently emigrated to theUnited States. They bring to life the realities of World War II in France, North Africa, England, Belgium, Holland, Italy and Germany.
Praise for WWII Voices:
 "We owe our World War II veterans a huge debt – a debt of honor …Hilary Kaiser had the wisdom to record their individual memories. Because of her, these veterans' stories will survive… Their courage and perseverance in the face of war will be an inspiration for us and our children…"   -James S. Dickey, Brigadier General, U.S. Army (Retired)
 "a welcome new perspective on the Franco-American relationship…"  - Jeffrey H. Jackson, Associate Professor of History, Rhodes College, USA
 "Hilary has real empathy for the people she interviews. She has provided us with a crop of memories that come vibrantly alive...."  - Jean Heffer, EHESS, Paris, France
_____________
 Hilary Kaiser, Ph.D, is American by birth and French by marriage. The daughter of a GI who fought in Japan during World War II, she is an oral historian and an Associate Professor Emerita of the University of Paris.
 WWII Voices is available in ebook for Kindle, Ipad, Nook,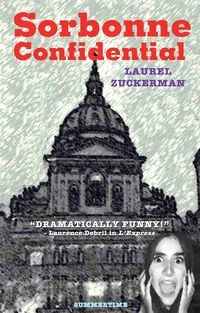 Sorbonne Confidential by Laurel Zuckerman -USA  August 2009.
ISBN: 978-0615252896


How hard can it be for an American to teach her mother tongue in France?
Laurel Zuckerman first became widely known after publication in French by Fayard of Sorbonne Confidential, an account of an American trying to obtain the agrégation in order to become an English teacher in the French public education system. A ferociously funny book, Sorbonne Confidential has generated considerable debate.
Her most recent novel is Professor Collie's Barbarian Dreams (Fayard, 2009), a humorous story about a historian so obsessed with the past that he forgets he lives in the present.
To listen to the World in Words Interview, clickhere.
See press reaction.
Sorbonne Confidential is available as an ebook for Kindle, Ipad, Nook, and in  Paperback from all major distributors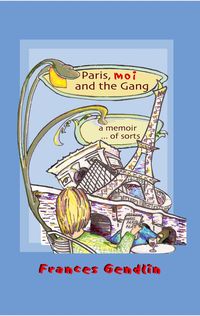 Paris, moi and the Gang, a memoir by Frances Gendlin, 
ISBN 978-0-9823698-0-7 
Frances Gendlin brings to her books twenty years of leadership in American magazine and book publishing—as former editor Sierra Magazine and executive director of the Association of American University Presses.  More recently, indulging her love of travel and adventure, she has written guidebooks to Rome, Paris and San Francisco for the Culture Shock! series.  For the last decade, she has loved living the life of an American-Parisienne, and in her new fictional memoir, Paris  Moi, and the Gang: she shows us both the serious and playful sides of the most charming capital city in the world.
"part faux memoir, part travel guide, and part romance novel… absolutely entertaining"-- William Potter in Book Reviews
Download ebook from Amazon US, Amazon UK, Amazon France, Ipad, Nook, Sony.